Heating Up The Capital 2023
Who will be the 2023 winner of the Extreme Chili Alliance World Belt!
The Extreme Chili Alliance was created to recognize people that partake in pure Chili eating competitions.    The belt match consists of competitors eating increasingly spicy Ontario grown peppers.  The peppers will keep coming until there is only one person left. No speed round and no sauces.
At Heating up the Capital 2, five competitors started by eating 13 rounds of peppers. At the end of those 13 rounds, four competitors were left and started eating super-hots in a sudden death round.
One by one, the competitors tapped out until 473 grams were eaten by the winner!!    The Extreme Chili Alliance Belt was awarded for the first time to Mike Jack of London, ON.  Mike has the belt in his possession for one year and also received a cash prize and a trophy to keep. 
 The belt remains property of Heating up the Capital and Extreme Chili Alliance and will be returned when the next competition takes place.  This will be at the third annual Heating up the Capital.

 Future plans are to have regional matches across Canada and the rest of the world with the winners coming to Heating up the Capital in Ottawa, ON to compete for the ECA Belt.
Think you have what it takes to win the ECA World Belt?  Pre-register today at info@HeatinguptheCapital.com and start training NOW!
The belt was donated by an anonymous benefactor in 2022.
Congratulations to the winner of the first 2022 Extreme Chili Alliance World Belt!
Congratulations to Mike "Molten Moose' Jack for winning the first Extreme Chili Alliance Belt!! 5 contestants started and after 8 rounds of increasingly spicy peppers, 4 were ready to compete in the Sudden Death round.  Each competitor was give 475 grams of Nagavina Peppers (a cross between a Naga Viper pepper and a red Savina Habanero)  Two hours and 13 minutes later,  Mike had finished eating every pepper!  Matt Kay of Frankford, ON ate peppers for the entire time and managed to eat 190 grams.   Congratulations to all that competed!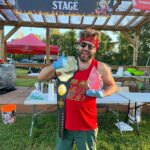 Mike Jack
, London, Ontario's Mike Jack will be defending his ECA belt.  Mike brought the League of Fire World Chilli Eating Belt home after successfully defeating Australia's Greg "Iron Guts" Barlow at the New Zealand Hot Sauce Festival in Auckland on Saturday, May 27th. 
After 15 rounds consuming a total of 65 of some of the world's hottest peppers and three shots of hot sauce, the match ended in a tie-breaking speed round where the two contestants consumed an additional 10 peppers.  
Mike Jack was previously the reigning two-time League of Fire Americas Belt holder and is the first Canadian to win the World Belt. Mike has broken 12 Guinness World Records most of which are for eating some of the world's hottest peppers.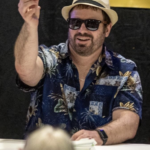 Aaron Jewels
The first official challenge for Aaron Jewels was the 2020 Paqui One Chip! Since than he has completed many challenges for League of Fire. From the Nemesis bar to a Tube of Terror and Scoville Slammers. Aaron currently holds the League of Fire record for six V4 chugs. Currently ranked 6th in the world on League of Fire website and feels he is just getting started.
Heatwave Hot Sauce Expo in London was his first official pepper eating competition and he loved every second of it. Aaron also has a YouTube channel dedicated to all things hot and spicy called The Caper Way (https://www.youtube.com/channel/UC8KlM-_sEgy_PS_SxR9tWcg)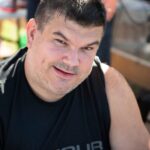 Alex Gougeon
Alex heard about Heating up the Capital just a few days before the event.  He loves spicy food and spicy challenges so he entered EVERY SINGLE CHALLENGE!!  Alex did extremely well in the ECA Belt Match challenge by eating the first 8 increasingly spicy peppers!  But stopped at the 470 grams of Nagavina Peppers.  Congratulations Alex!!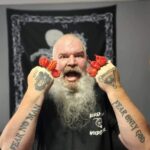 Shane 'Viking Heat' Hammond
Star of the low budget YouTube channel BORED IN WOODSTOCK. Obsessed with growing peppers and trying hot sauces.
Shane has been training for a rematch against Mike "Molton Moose" Jack since they competed in London, ON in May 2022.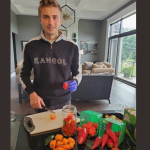 Blake Hambly
Blake Hambly is from Lexington, Kentucky and has been eating hot peppers since he was a little baby. He currently grows many varieties of peppers in his garden and even makes his own hot sauce with fresh fermented Reapers, Scorpions, and Dragons Breath Peppers. Blake first got involved in competitive events through the Pacqui One chip challenges and then won his debut hot sauce competition in his current hometown of Ancaster, Ontario.